Hello friends,
2020 is fast approaching and as a result I have been doing some planning for the new year. I have some goals to read outside my favourite genres and incorporate some nonfiction into my reading. There are some amazing reading challenges that go on all year long, every year, and this year I have picked a few that I am going to use to help me broaden my reading. I'm not going to be pushing myself to complete all prompts from all the challenges, but rather use some to try new things and see what happens. I am also going to be using 1 book for multiple prompts in some cases.
Reading Women Challenge
Reading Women is a podcast that, you guessed it, discusses reading books written by women. Their 2020 Challenge focuses on reading books written by or about women from all different genres, backgrounds, cultures, and so on.
I am really excited to be trying this one out. I have noticed this year that a lot of my reads this year have been by women, so why not expand that more! They also have a great Goodreads group that is super helpful!
The Unread Shelf Challenge
The Unread Shelf was started on Instagram by Whitney to help people who have those unread books sitting around. There is a prompt for every month of the year and the goal is to read the book that fits that prompt or get rid of it. She recently started up a blog about the whole process.
Here are the challenges –
January – any unread book
February – a book gifted to you
March – the book that's been on your unread shelf the longest
April – the book you most recently acquired
May – a backlist title (by an author with a newer book out)
June – a book from a series
July – a book voted for you by Bookstagram (or other bookish community)
August – a buddy read
September – a book you've owned so long, you forgot where it came from
October – a book that scares you – in content or length
November – a book from your favorite genre
December – the shortest book on your shelf
The whole challenge can be found here. I tried this one this year, and I honestly didn't follow the rules completely, but I did enjoy it and it did help me read some of books I already own.
Popsugar Reading Challenge
The last challenge is the Popsugar Reading Challenge. This one is the challenge that I'm not going to work very hard to complete. This is the one that if I read something that I think could fit into a prompt I will use it, but my plan is not to complete this. It will just be fun to see if any prompts look interesting or if the things I'm reading will fit in at all.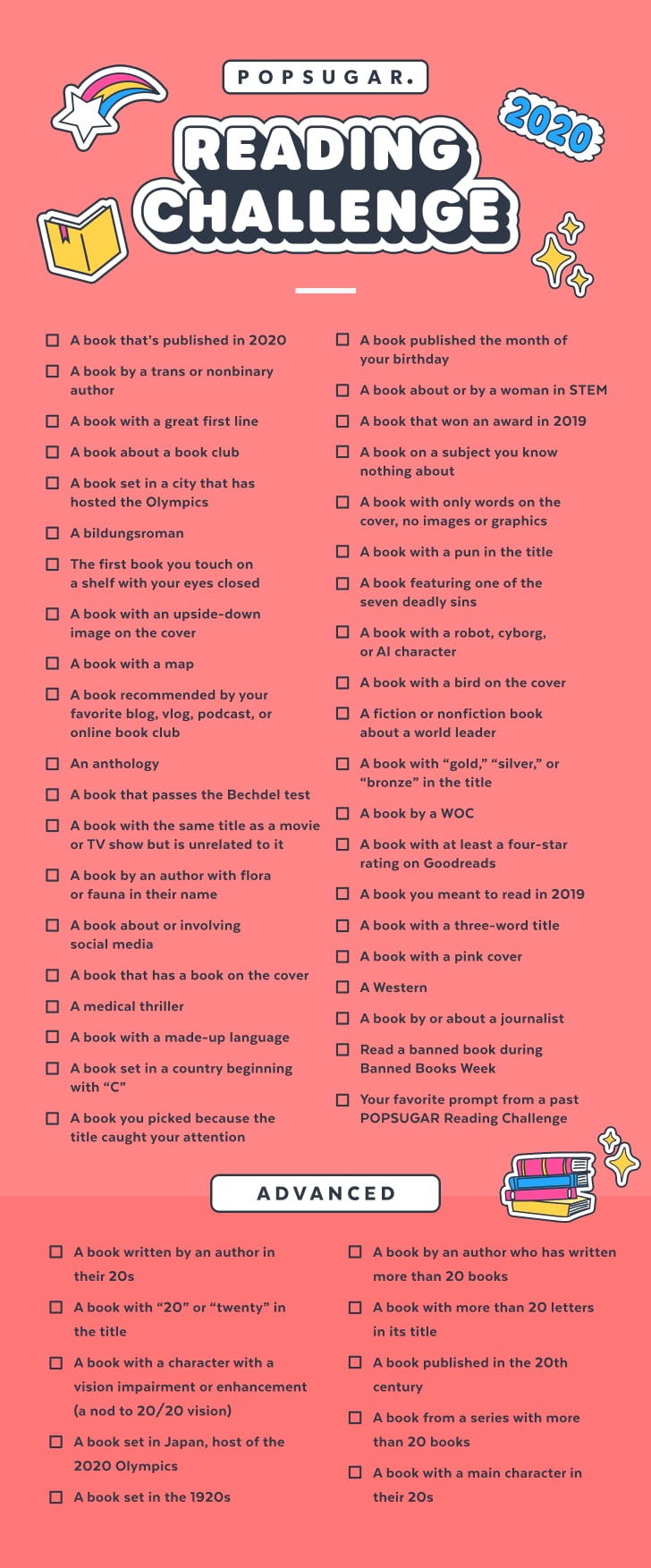 So those are the reading challenges that I will loosely be following in 2020. Are you going to be participating in any reading challenges?
Happy reading,
Alex