Hello friends,
As someone who loves indie books and publishers, I am always on the lookout for new indies coming out and new authors to keep an eye on. So I figured I would compile the list that I have and share all the new books coming your way in 2023. This is, of course, in no way a complete list. There are probably way more books coming out than I've heard of, but here is what I've got so far.
The Essence of Longing by Caroline Sophia Hamel – January 10
A girl losing herself, and two young women finding their way.
Dunet is in a state of guilt and regret. With her self-hatred and low self-worth building up in her head, she falls into an intense depression and seeks solitude whenever she can, slowly isolating herself from the world and the people who care about her. But even though she tells herself she wants everyone to forget about her, that everyone would be better off without her, there's a small part of her that wants to be saved. A small part of her seeks hope in Myllia, one of the few people Dunet trusts.
Liela is trying to move forward. She's realized that she no longer knows how to be there for her sister, Dunet, and now she is desperately leaning into others for help amid her confusion and pain. With little else that she knows, she pushes forward, tackling greater responsibilities as the new Commander of Claralis in an effort to hold her world together. While sorting through her feelings and her changing relationship with her sister, Liela must also adjust to her relationship with Myllia as their romance deepens.
Myllia is starting to realize who she is. As her relationship with Liela evolves into something much more complex and vulnerable, she realizes that romance is no longer enough for her. With her new relationships and her growing confidence in herself, she decides to be her own person and pursue a path that brings her happiness. But before she faces her newfound future, she must come to terms with her past. In doing so, she'll encounter a future full of possibility built on a promise to herself and those she loves: to be the best version of herself and settle for nothing less than what she deserves.
The Essence of Longing is an interpersonal exploration of self-discovery and depression, expanding on the characters from To Hold a Flower.
The Summer We've Had by Katherine Blakeman – January 14
After a nightmare couple of years following the death of her celebrity singer mother, Cass Mulligan is moving down to the sun, sea and shingle of Cornwall for a fresh start. But she soon realises that she's not the only one in need of some TLC…
Felicia Wilson's life is one long series of spinning plates. She has Dissociative Identity Disorder, a system of five alternate personalities living in her body, and they all have different hopes, fears and desires.
When Cass is thrown together with Felicia, some beautiful friendships grow, and soon there is substantial mutual attraction between Cass and dominant alter Heather. But if things go wrong, they could go very wrong. Can they build a relationship AND keep everybody happy?
Content warning: brief mentions of domestic abuse, sexual abuse and suicide.
Tears In The Water by Margherita Sciala – January 17
An upper ya/new adult queer contemporary story of love and self-discovery.
At White Ravens University, where athletes train to become professional sportspeople, Alex is on the swimming team with her best friend, Xiuying. Having grown up mostly alone, parents absent and brother often busy with his own life, Alex tends not to meet new people unless she and Xiuying are together.
After an embarrassing encounter with a boy from the volleyball team Alex soon discovers that the world isn't so big after all and the universe has a funny way of setting people up, especially when and with whom they're least expecting.
Despite her reserved character, Alex becomes part of a newly formed friend group consisting of four amazing people with different identities and personalities. As she tries to overcome her anxiety and negative past events, Alex finds herself both struggling with romantic feelings for a new acquaintance and a full blown gender crisis.
Two Lives, One Heart by Barbara Murphy – January 24
When techie Josie Molina is volunteered by her boss to visit an elementary school to discuss careers in Technology, she reluctantly agrees. Her reluctance vanishes when she meets and befriends teacher Trish McCann. Josie, an unapologetic lesbian, tries to ignore her attraction to Trish because getting involved with a straight woman is always a bad idea. For her part, Trish realizes that what she thought she knew about her sexuality is all wrong, and she allows herself to give in to her attraction to Josie. Once Trish is sure of her feelings, she knows she must break the news to her mother, Marilyn. In doing so, she learns of a long-buried family secret involving her grandmother Anna and her decades-long affair with her best friend Mary.
Anna O'Brien is a typical 1920s housewife with a husband and two small children. When she meets her new neighbor Mary Monahan, her world is turned upside down when they fall deeply in love. In a time when such a relationship was considered both taboo and immoral, Anna struggles to keep her family intact as she navigates her overpowering feelings for Mary.
This story traverses both past and present to depict the lives of Anna and Trish as they discover their true, authentic selves.
Teeth and Tarot by A.A. Fairview – January 31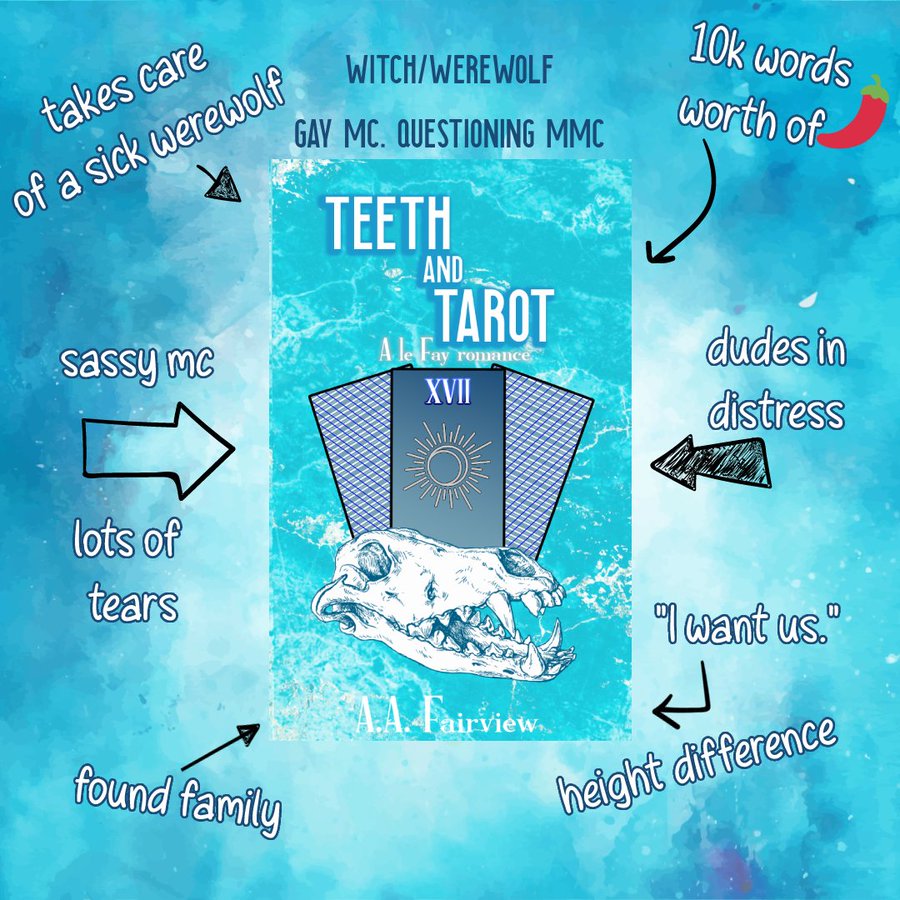 It's not my fault, I remind myself. Daily affirmation.
Unfortunately.
Lance fled the comforts of his wealthy witch family a decade ago and has settled into a human existence. But the nightmares remain and drowning out the memories with clubs, hookups, and early morning coffee runs only helps so much. When he spots a hot stud as his favorite coffee spot, things seem too good to be true. His gut tells him it's too good to be true and to not trust the man who calls himself Adam.
But a one-night stand can't hurt. Right?
Like a curse he can't escape, Lance is pulled back into the world of witches, werewolves, and gangs. For every person he has in his corner there is another working against him. Never mind his stud hookup– who went and got himself bit by a werewolf. Forgetting things has never been easy and Lance isn't ready to just forget this man… even if keeping him close puts them both in danger.
Teeth and Tarot is the first book in the le Fay Romance series following a family of witches, though the books can be read as stand alone. Teeth and Tarot features a witch and werewolf relationship between two men. This book contains sexual content not appropriate for readers under the age of 18.
Curated by Nellie Wilson – January 31
Emmy Bonaire has built a successful career as a historian by anticipating the worst outcome and avoiding it at all costs. What she couldn't foresee was her history museum having to combine with the science museum across campus. Even worse, Emmy now has to share an office and design an exhibition with an annoyingly attractive fellow curator, Dr. Ryan Andersson, a paleontologist whose optimism is only topped by Emmy's skepticism of him.
Ryan considers himself a likeable guy. That is until he meets Emmy. She seems immune to his midwestern charm and attempts at professional collaboration. Not one to let something go, Ryan embarks on a personal campaign for Emmy to like him. For the museum's sake, of course. Not at all because the gruff historian piques his interest.
As Emmy and Ryan evolve from begrudging co-workers to steamy stolen kisses in the archives, their academic work benefits as well. But when their collaborative exhibition becomes critical to both of their successes—while their career goals become further unaligned—extinction seems imminent.
Dress The Neck Beckomingly by Emmaline Strange – February 5
Fresh off a case that exposed him to the supernatural world of shapeshifters, Detective Royce Davis just wants his life to go back to normal.
Unfortunately, between his commanding officer breathing down his neck, and his boyfriend dumping him, normal suddenly isn't all that appealing. So what's a strait-laced detective to do?
Engage in an ill-advised one-night stand with a Vampire, naturally.
When bodies start to drop and people go missing, can Royce find a way to trust his blood-sucking new beau?
Dress the Neck Becomingly is a steamy paranormal mystery that contains violence and some consensual blood play. It can be read as a standalone romance with no cliffhanger, but is best enjoyed after reading Mighty Quill, the first book in the Sanguis Et Fauna universe.
Worthy of the Raven: Stalked by Darkness by Y.L. Zamora – February 7
The Raven chose you; a Skin demon told little Lara —a secret she's kept for almost ten years. She still can't understand the ominous message when her sick, insane father viciously attacks her mother in front of her and the Raven —always by her side when calamity strikes. Lara must seek shelter with her friends, the Condé brothers, who disguise her as their younger sibling and smuggle her into war to protect her, but the darkest, most dangerous magic quickly catches up to her when she meets the Skin once more.
Nicholas, the heir of Condé, became head of the family when his father, the greatest Longbraid warrior, lost his leg in battle and his will to live with it. Nick, an aloof intellectual who didn't inherit the Condé talents for combat, can't fill his father's shoes or his younger brother's —already General at twenty-one— and struggles in a war he doesn't believe in, training the woman his brother has always loved while coping with his own tumultuous feelings for her.
Alexander is a farmer boy turned reluctant Leader. His love for Lara isn't enough to prevent her brutal attacker the night before his army must go to war in a quest to steal the Magic only the ruthless Skin possess. He must keep his men alive against the most lethal predators in the Ucrian Peninsula and confront the Lords in a constant battle of political wits to keep his grip over the army while hiding Lara in plain sight as he deals with his own soul-crushing guilt.
A Brighter, Darker Art by Halli Starling – February 8
A chance meeting at a bar.
An instant connection.
But that connection turns from a spark into all business. For the moment.
And it's a really bad idea to date the boss…
Raphael (Raf) Lutz, is under immense stress with the opening of his fifth art gallery in a few months. He's mentally and physically exhausted, and given his perfectionist nature, deeply concerned that this gallery won't stack up to the rest. His best friend, Ambrose and Ambrose's boyfriend, Barrett, have trusted Raf with a very special set of illustrations belonging to Barrett's deceased friend. Raf is making the illustrations a highlight of the gallery's opening, and it has to be just right. Perfect. But he's drowning and he needs a marketing manager yesterday.
On the other side of town, Silvan Diedrich has just been downsized from the marketing firm he helped build, and drowning his sorrows in a few drinks and maybe some company sounds about right. The man who takes the stool beside him is dangerously handsome with a clear flair for the dramatic. Company, indeed. But as he and Raf talk, Raf offers him the one thing Silvan hadn't been expecting – an interview.
Which he passes with flying colors.
But close proximity to Raf, day after day, is far too much temptation. Raf doesn't need any more complications. Silvan's not been with anyone in a long time, as he's been the primary parent for his now college-aged daughter.
So they make a deal. Hands off, for now.
Sticking to that deal proves to be rather difficult for both of them.
Monstersona by Chloe Spencer – February 14
After her parents' divorce, 16 year old Riley Grishin is forced to move from Portland, Oregon all the way to Little Brook, Maine, a small town that serves as the headquarters for Titan Technologies, an international science corporation.
Having no friends, Riley spends most of her days running through the woods with her dog Tigger, and eavesdropping on her classmates—in particular, the gorgeous, but very strange, Aspen Montehugh.
On the night of the homecoming game, Riley wakes up to find that her town is on fire, and being terrorized by an unseen monster. With the flames rapidly spreading, Riley and her dog Tigger have no choice but to pile up in their beat-up pickup truck and flee the town. But as they're driving away, they come across the only other survivor: Aspen.
When Aspen and Riley reach safety, they realize that something far more strange and sinister is happening. According to the news, all of the other Titan Tech laboratories on the East Coast have spontaneously combusted. All air travel has been grounded, so Riley has no way to fly to her dad who lives in Seattle. Riley and her dad agree to meet up in Minneapolis, and Aspen comes along in hopes of finding her aunt.
As they travel across the country, they are attacked by monsters and strange armed men in the dead of night. Slowly, Riley realizes that something's not quite right with Aspen, which puts her feelings for her—and her own humanity—to the ultimate test.
Heart, Haunt, Havoc by Freydis Moon – February 14
Laced with romance, gothic imagery, Catholic mysticism, diaspora, and horror…
When lonely transgender exorcist, Colin Hart, finds himself challenged by an unruly haunted house in Gideon, Colorado, he's kept awake by ghosts, demons, ghouls, and the handsome nonbinary owner of the house, Bishop Martínez.
Unlike the simple hauntings Colin is accustomed to, Bishop's house is a living beacon, attracting a plethora of inhuman creatures, including a vengeful wolf-headed spirit who might be the key to quieting their sleepless nights.
But as a heartbreaking mystery unravels, Colin comes face-to-face with the past Bishop tried to bury, opens a closet full of bloody skeletons, and trips into an accidental romance.
As paranormally skilled as Colin might be, this particular haunting may be too messy for him to handle…
The Fox and The Dryad by Kellen Graves – February 24
Briar Hunt has always been lauded for his grace on stage, except by one person from whom he wants it the most. Desperate to earn the affection he craves, Briar makes a late night deal with a high fey lady: If he can perform a single perfect dance at one of her woodland revels, she will make him the most enchanting thing on two legs.
However, Briar quickly learns the fey lady is impossible to please. Not only that, her demands are never-ending, enough to slowly unravel his life and his health. Only when a handsome stranger, Mal, arrives claiming he can help Briar break his deal and earn his freedom back, does Briar think he might be saved.
Lord Malric d'Alarie has finally broken free of dancing on command for his mother at her fey revels. But after hearing he's been replaced, he attends one of her parties to see for himself. The human performing in his place is breathtaking–but Malric dreads what kind of deal the dancer made with his mother in order to be there.
Wanting to rescue Briar from the same woman who stole his own love for ballet, Malric inserts himself into Briar's life from every angle possible. From posing as a dance instructor in the human world to hiding behind a mask in the fey world, Malric promises he can set Briar free of his fateful deal. Malric only has to keep his identity–and his intentions–secret, from both the dancer he's quickly falling for, and his mother, who controls their every move.
Now The Wind Scatters by J. Donai – March 15
An ancient Greek tale vividly reimagined in this radiant fantasy debut

Iphigenia seems to have it all.

As the eldest daughter of the House of Atreus and princess of Mycenae, Iphigenia has had an idyllic childhood despite her family's bloodstained history. She is the darling of the people of her city, and at her side are her endearingly annoying sister Electra and adorable baby brother Orestes. As she comes of age, however, that fragile peace is threatened by strange, burgeoning feelings for her handmaiden. Amidst this crisis of identity, another looms as an ancient goddess only Iphigenia can see simmers beneath the surface of reality. All of this falls to the back burner when war with the Trojans looms high on the horizon, and Iphigenia's father summons her with a proposal of marriage she would go to the ends of the earth to avoid.

In a desperate attempt to circumnavigate her fate, Iphigenia discovers a dark truth: the altar her father intends for her is sacrificial rather than matrimonial. It is only by an act of divine intervention that she survives, and it is by divine retribution that she will have her revenge.

It is from the desecrated shores of Aulis that Iphigenia will embark on a journey that will take her from the furthest reaches of the ancient Mediterranean to the underworld itself. Amidst romances with goddesses and her own terrifying deification, Iphigenia plots. Despite the pleas of everyone around her, she vows that blood will soon stain the marble halls of the House of Atreus once again.

Vengeance is sweet, but as Iphigenia soon discovers, it comes at a price that could cost her everything
Render to Silver by Catherine Labadie – March 17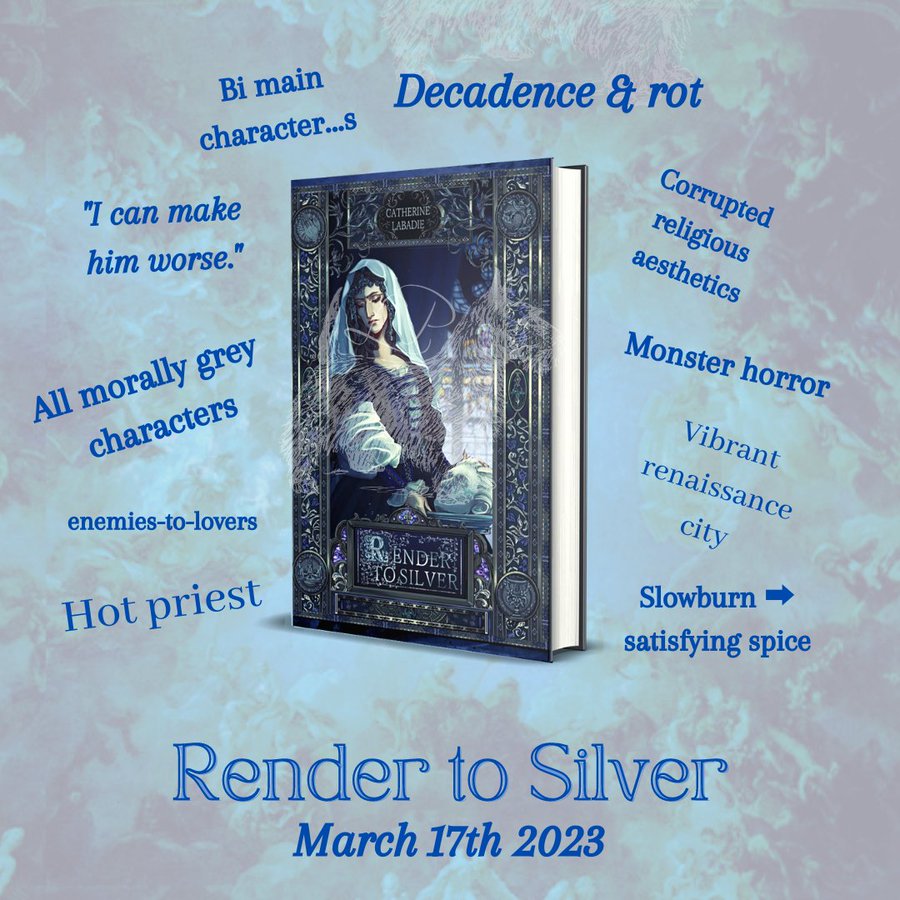 The Founts of Silver are holy women blessed by the favor of their God…or they are cursed vessels meant to be shattered. Given no other choice, Fount Marzanna clawed her way up their ranks until she was able to begin planning her escape with one of her fellow Founts from Aebbenary, the prosperous island ruled by Silver's decadent church.
Instead, the accidental working of a Miracle sets her apart and attracts the notice of the High Priest. He intends to use her to spark a revival in the city, and eventually the world, which has begun to turn away from a religion that rewards greed and ambition as piety. He's not forthcoming with how, and while tensions in the city rise, while two rival houses contemplate war, Marzanna realizes the role she resents with all her heart won't let her walk away without untold sacrifice.
Hopefully you found some releases that look interesting to you! So many good books coming out this year!
If you like what I do and want to support the blog consider dropping me a tip on my Ko-Fi